Originally posted on the UNC Kenan Flagler Business School Blog on Dec. 14, 2017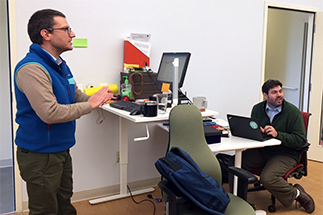 Nick Ghitelman (MBA '10) and Anthony Volpe are creating a fund and extra space for innovation and entrepreneurship in downtown Chapel Hill. The founders of Quantworks – an analytics company that graduated from Launch Chapel Hill in 2016 – are helping jump-start other start-ups in the community by providing expertise and office space.
Launch Chapel Hill – a partnership between the Town of Chapel Hill, Orange County and UNC-Chapel Hill – is a program of the Center for Entrepreneurial Studies at UNC Kenan-Flagler Business School.
Quantworks is two companies in one, says Ghitelman. The company – which is a SAS gold partner, demonstrating its capabilities in SAS technologies and solutions – earns revenue by working with firms on analytics and data. "With the money we earn, we get the best and brightest talent to apply their skills and knowledge to really cool and innovative projects and work speculatively on early-stage companies and their problems," says Ghitelman.
Quantworks has developed its first fund of six early-stage companies which work in a range of industries, including pharmaceuticals, legal technology and sports technology. Quantworks serves as an equity investor.
"When you are an early-stage company yourself, it can be hard to come out of the gate and say you work with early-stage companies," says Ghitelman. "But once you build a foundation, a network and a reputation of doing good work and being innovative and clever, people start coming to you."
The desire to innovate grew out of the founders' prior professional experiences. Ghitelman and Volpe worked together at SAS before Volpe left to become chief analytics officer at Lenovo and Ghitelman joined Southern Season when it was in transition.
"At SAS, we saw the power of analytics," says Ghitelman. "At Lenovo, where Anthony saw the power of analytics in a global $50 billion company, he also observed ways in which innovation could occur but also is challenged in big companies." Ghitelman's tenure at Southern Season showed him "how scrappy you have to be at the other end of the spectrum."
"We both came to the view that the enterprise needs innovation," says Ghitelman. "Small companies need to continue to innovate but build some structure around what they are doing. Large companies are very good at process, but sometimes hinder innovation. If you think about the Venn diagram that is large enterprise and small companies, the intersection is borrowing innovation and borrowing structure and scale. Our idea is that analytics is a launching pad for the place at which innovation of process can be shared and leveraged across companies of varying sizes and various stages."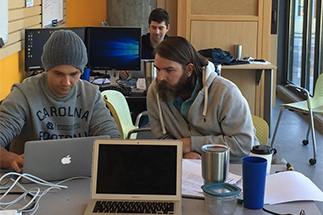 Launch Chapel Hill played an instrumental role in Quantworks' development. It provided a robust network; the ability to tap into incredible university resources; talks that provided guidance and insight; and mentorship from the entrepreneurs-in-residence.
After spending three months in an outside office space following Quantworks' graduation from Launch, the company returned to Launch and took advantage of its co-working space. "Launch afforded us a great deal of flexibility at a time when, as an early-stage company, we needed flexibility more than certainty," says Ghitelman.
Paul Krause turned to Quantworks for support. He is the founder and president of Fanalytical, which helps university athletic departments develop an integrated view of their fans and donors to create more engaging fan experiences and grow revenue. After graduating in June 2017 from Launch, Fanalytical became one of the companies in Quantworks' fund and moved into their office space on Rosemary Street.
"Our company's work requires a very robust technology infrastructure and Quantworks, as our technology partner, has developed the very best systems, platforms, and technology for us," says Krause. "We also get thought leadership from Nick and Anthony and the people on their team, who are some of the brightest minds in analytic modeling. To have that caliber of talent working on our platform is a competitive advantage."
GymNOW, which also graduated from Launch in June 2017, is another member of Quantworks' fund and shares the company's office space. Founder Rob Gilliam (BA '16), a former professional baseball player, provides a platform for single location or small chains of gyms to offer a multiple-location membership option.
"Partnering with Anthony and Nick has made a world of difference for our company," says Gilliam. "They have not only built the majority of our platform but they bring so much industry expertise with analytics and software development and provide great guidance."
"Like Launch, Quantworks lets us learn so much from our peers," says Gilliam. "Having everyone in the community-based office space allows everyone to feed off each other."
Tackling the diverse challenges of a range of companies is in the DNA of Quantworks' founders and staff. "Our team brings passion every day to tackle a wide array of technical, analytical, and business problems, working seamlessly in a collaborative and innovative way," says Ghitelman. "We're passionate about innovation not for innovation's sake but for testing new models for doing business, creating code, creating products and creating relationships."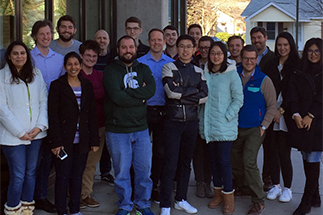 Quantworks is finding success and meteoric growth with its innovative model, growing to a team of 17 full-time employees and eight part-time staff, including interns. The staff includes two employees who received their bachelor's degrees from Carolina and five whose graduate degrees are from UNC.
The average Quantworks salary is 70 percent higher than the estimated 2017 average wage in Orange County. In 2018, the company expects to add two or three additional employees and build its next fund of five partner companies.
As Chapel Hill residents, Ghitelman and Volpe are committed to creating a culture of entrepreneurship in their town. "We chose an office here expressly because this community has people with great ideas and the willingness to do things differently," says Ghitelman. "And the university and the university ecosystem are really important to us."